Pix Brook Academy Vacancy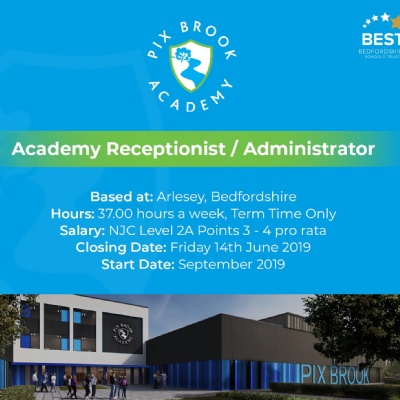 Latest vacancy at Pix Brook Academy is now live.
The Academy Receptionist / Administrator will provide administrative support to the school, working flexibly across a range of functions. The successful candidate will act as an initial point of contact for incoming phone calls, visitors, students, staff, enquiries and, as such, must be well-presented with a professional, friendly approach.
The Academy Receptionist / Administrator will be an essential member of the Academy's Administrative Team and contribute towards the smooth running of the school. Pix Brook Academy is committed to working as 'one' to best meet the needs of all students and therefore the successful candidate will demonstrate an interest, and enthusiasm in supporting young people to fulfil the Academy's vision of being outstanding in everything we do; Ambitious; Aspirational; Responsible.