Curriculum Overview
At Pix Brook Academy, our core value of "educating the socially responsible citizens of the future" is at the heart everything we do. We focus on ensuring all stakeholders are unapologetically ambitious, relentlessly aspirational and socially responsible in all they do and this helps us to ensure that every pupil excels in life.
To achieve our core value our intention is to ensure pupils make outstanding progress and that the curriculum removes any potential barriers to learning. We want our pupils to leave with knowledge and skills which will not only create excellent life opportunities but will also prepare them exceptionally well for life beyond the academy.
If you would like further information please contact the school office at pixbrook@bestacademies.org.uk
At Pix Brook Academy pupils will:
experience a broad, deep and knowledge rich curriculum and will lay secure foundations for progression

be literate and numerate

be able to achieve highly regardless of their starting points

have high expectations for their behaviour and achievement

enjoy plentiful opportunities for their personal development
Pupils experience a broad, deep and knowledge rich curriculum and will lay secure foundations for progression
Our academy curriculum helps pupils to achieve high standards and make excellent progress. The curriculum has been carefully designed by school leaders in collaboration with our expert teaching staff to be broad, balanced and inclusive. Pupils master essential knowledge/skills and develop a deep understanding of each subject area over time which lays secure foundations for success at the end of each key stage. It is reviewed regularly.
Pupils develop excellent numeracy and literacy skills
The development of pupil language and oracy is at the forefront of our curriculum as we understand how vital it is for our pupils to build confidence in communication skills not only for their time in school but also to prepare them for working life. We ensure pupils have opportunities in all subjects to discuss, challenge and build on other points of view and to develop their formality of language to ensure they can have the confidence to speak to different audiences. Numeracy and literacy skills are embedded across the curriculum. Pupils who arrive with below expected maths and English skills are quickly caught up through expert teaching, our reading programme and incisive intervention. Our approach enables pupils to flourish, thrive and access the next stage of their education, employment or training
Pupils will be able to achieve highly regardless of their starting points
Our teachers take considerable care in their lesson planning to ensure that materials are adapted appropriately for the needs of the pupils in their lessons. They approach this ambitiously from a position of high expectations about what children can achieve.
Pupils will have high expectations for their behaviour and achievement
Pix Brook Academy pupils are polite, prepared, positive and they persevere. These core values form part of the whole school ethos and are demonstrated by pupils in all aspects of their schooling. High standards of behaviour enables all children, regardless of their starting points, to flourish academically.
Pupils will enjoy plentiful opportunities for their personal development
At the academy, we are committed to improving the life chances and aspirations of pupils. A child's personal development is at the core of the opportunities we offer. With a focus on building character and resilience through ensuring pupils have access to a varied curriculum. This is enhanced by numerous opportunities for enrichment, educational visits and workshops. For example, we have a very diverse and popular enrichment programme which is updated every term. Leadership roles are available for pupils to develop their skills. Many of our pupils are subject ambassadors or support younger children in the school through our buddy system.
It is our intention at the academy to ensure pupils have secure foundations for progression into further education and apprenticeships. From Year 7 pupils receive careers information based on the Gatsby benchmarks. Over the course of their schooling, our pupils will benefit from a wide range of voices and experiences. Careers education is delivered through our Citizenship programme. Sex and relationship education/PSHE is also delivered via our Citizenship programme. (Please see the SRE policy on the website for further details).
British Values, spiritual, moral, social and cultural development are embedded in all aspects of our academy whether it be through curricula, tutor time/assembly or other activities which supports a child's holistic development
Through our focus on these areas, pupils build their character and increase their cultural capital.
Curriculum Implementation
We believe that a carefully planned and structured curriculum is the foundation upon which excellent learning and development is built. The curriculum is designed and implemented so that it builds on prior knowledge and prepares pupils for the next stage in their education. Lessons are engaging, inspiring and suitably differentiated so that pupils are able to achieve, or go beyond, their potential with pupils able to spend a lot of time in lessons working independently at their level of ability.
Development of language and building knowledge are integral to curriculum planning. Subject Leaders, who are experts in their subjects, carefully construct a curriculum that promotes a deep understanding of a wide range of topics. Teachers plan learning that use data and prior attainment information and that allows pupils to embed and recall knowledge. This builds firm foundations for progression to the next level of their learning.
Key Stage 2 - pupils will be taught thematically
The curriculum at Pix Brook Academy at KS2 is designed around a thematic approach.

Classes in Y5 are taught through a primary model with most lessons delivered by their class teacher. Specialist teaching is provided for some elements of the curriculum such as Dt and PE and French.

Classes in Y6 prepare students for SATs using a careful approach to ensure the focus is on learning and well-being as opposed to assessment. Maths, science and English are taught within sets.
Key Stage 3 - pupils will be taught a subject based curriculum
As pupils move into Year 7, teaching is led by specialist subject teachers. Many groups are taught in their tutor groups although some subjects such as maths and science are in sets.
In Years 8 and 9, although a wider range of subjects are taught in sets, pupils are equally taught in their tutor groups. These are subject/timetable based decisions and may vary a little year on year.
In Year 9, students are thoroughly prepared for Options using assemblies, parental evenings, careers information for example. Our wish for every child is that they are excited and enthused about starting the next phase of their education.
Key Stage 4 - pupils will be taught a subject based curriculum
As pupils progress, the opportunity to focus on specialist areas increases providing pupils with option choices built around the core curriculum of English, maths, Science, Citizenship, PE and humanities. We intend to be a leading Ebacc school across Central Bedfordshire and as such recommend the inclusion of languages in the options selected for the majority of our pupils.
The options curriculum offer consists of a broad range of learning opportunities that are designed to facilitate access to further and higher education opportunities, at the same time, enabling pupils to personalise the curriculum for the first time.
Curriculum Impact
At Pix Brook Academy, our curriculum will:
ensure that the sequence of learning builds on previous knowledge whilst supporting future progression

enable all pupils to fulfil their potential

meet the needs of pupils of all abilities at the academy

allow pupils to acquire an appreciation and respect for their own and other cultures

develop pupils emotionally and academically for their next phase of learning and beyond

prepare pupils to compete in the global economy

help students develop lively, enquiring minds and the ability to question and argue rationally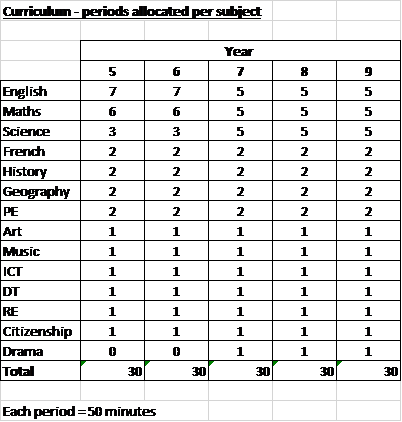 At the start of each year, all pupils will have a baseline target established. From that an end of year aspirational target will be derived that they are expected to strive towards.
Regular, low stakes, testing ensure that pupils embed knowledge into their long term memory. We use pupil progress checks as a diagnostic check of pupil's learning. Learning is checked more rigorously towards the end of term. Misconceptions are addressed continually throughout the term but also through bespoke fix-it time lessons which are designed by teachers to reteach core learning which has been misunderstood. This incisive intervention enables pupils to progress rapidly. Pupils are assessed by a combination of peer, self and teacher assessments.
Parents receive reports 3 times per year. The reports will indicate the progress that pupils have made towards their target grade and an indication of their behaviour and attitude to learning.​
Monitoring arrangements - curriculum
Governors monitor whether the school is complying with its funding agreement and teaching a "broad and balanced curriculum" which includes the required subjects, through:
School visits

Meetings with school council; subject leads and leadership team

Book scrutiny

Subject deep dives
Heads of subject monitor the way their subject is taught throughout the school by:
Learning walks

Lesson observations

Book scrutiny

Subject reviews

Cross curricular planning

Student voice